Have you ever found yourself peering into a bag of barley and wondered, can chickens eat barley? The answer is a resounding yes, but as with anything, there's a bit more to it. As a fellow poultry keeper and animal enthusiast, I've walked this path, asking similar questions to ensure my feathered companions get the best nutrition possible.
Introducing a new element into your chicken's diet can seem daunting. Will they like it? Is it beneficial for their health? How much should you feed them? Understanding the what, why, and how of feeding barley to chickens is crucial. And you're not alone. I've been there, so I've put together this comprehensive guide.
Throughout this article, we'll go into the basics of the chicken diet, the role of grains, and the pros and cons of feeding barley to your chickens. Whether you're a seasoned farmer or a newbie chicken parent, you'll find useful insights to help you make the best feeding decisions for your flock.
Understanding the Chicken Diet
To fully understand the ins and outs of feeding chickens barley, we first need to understand their typical diet.
Basics of What Chickens Eat
Chickens are omnivorous creatures. That means they eat a little bit of everything – seeds, grains, fruits, vegetables, insects, and small rodents. Most chicken feeds comprise a balanced mix of these, alongside minerals and vitamins necessary for their health.
Importance of a Balanced Diet
A balanced diet is essential for your chickens. It impacts their growth, egg production, and overall health. A deficiency in any nutrient can lead to poor performance and disease susceptibility.
Common Food Types for Chickens
Typical chicken feeds include corn, wheat, oats, and soybeans. These feeds usually also contain vitamins and minerals to ensure a balanced diet. Chickens also appreciate treats like fruits and vegetables from time to time!
Do You Want Large Beautiful Eggs?
Then you need this organic and Non-GMO layer feed. My hens have increased egg production, and the eggs are huge, with rich, yellow yolks! Check out this feed on Amazon now.
The Role of Grains in a Chicken's Diet
Let's dive into the role grains play in your chicken's health and diet.
Common Grains Fed to Chickens
Chickens are often fed a variety of grains. Common examples include corn, wheat, oats, and barley. These grains serve as excellent sources of energy for your feathered friends.
Nutritional Benefits of Grains
Grains are rich in carbohydrates, which are essential energy sources for chickens. They also contain varying amounts of protein, fibers, and other essential nutrients.
Potential Hazards of Grain Overfeeding
Overfeeding grains can lead to nutritional imbalances. Excessive grains can lower overall protein intake, potentially leading to obesity and related health issues.
Overview of Barley as a Chicken Feed
So, where does barley fit into the picture?
What is Barley: Quick Introduction
Barley is a versatile grain that's packed with nutrition. It's rich in carbohydrates, fiber, and essential vitamins and minerals.
Nutritional Composition of Barley
In terms of nutrients, barley is a powerhouse. It has plenty of carbohydrates for energy, as well as dietary fiber, which aids digestion. It's also a decent source of protein.
Forms of Barley Used in Chicken Feed (Whole, Crushed, Pearled, etc.)
Barley for chicken feed comes in various forms. These include whole barley, crushed barley, and pearled barley. The form you choose depends on the age and preferences of your chickens.
Pros and Cons of Feeding Barley to Chickens
So, what are the pros and cons of using barley as chicken feed?
Benefits of Barley in Chicken Diet
Nutrient Profile
Barley's nutrient-rich profile makes it a great feed choice. Its high carbohydrate content provides ample energy, and its dietary fiber supports digestive health.
Impact on Egg Production
Some studies suggest that barley in the diet can positively impact egg production. This is likely due to its rich nutrient content supporting overall health.
Digestive Health
The fiber content in barley aids in digestion, helping maintain a healthy digestive system.
Potential Drawbacks of Feeding Barley to Chickens
Anti-nutritional Factors
Barley contains certain anti-nutritional factors like beta-glucans that can interfere with nutrient absorption, but proper processing can mitigate this.
Palatability and Digestibility
Some chickens might not find barley as tasty as other grains. Plus, whole barley might be harder for them to digest.
Effect on Chicken Behavior
There isn't a direct negative impact, but if chickens don't like barley, they might pick out other grains, disturbing the balance of their diet.
Feeding Guidelines: How to Properly Introduce Barley to Your Chickens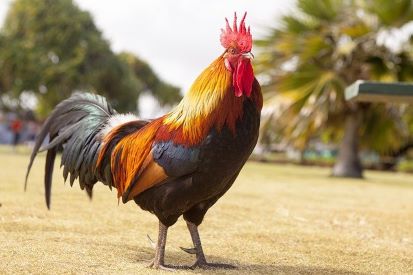 If you've decided to introduce barley to your chickens' diet, here's how to go about it.
Choosing the Right Barley
Choose a form that your chickens will enjoy. Crushed or pearled barley is usually a safe bet.
Incorporating Barley in the Diet: Step-by-Step
Mix a small amount of barley with their regular feed, then gradually increase the proportion over time.
Determining the Right Amount of Barley to Feed
Aim for barley to make up about 10% to 15% of their diet, but this can vary based on their overall diet.
Monitoring Your Chickens After Introducing Barley
Watch your chickens for changes in appetite, behavior, and egg production. If there are adverse effects, consider adjusting the amount or discontinuing barley.
FAQs about Chickens and Barley
Answering common questions when introducing a new element into your chicken's diet is always a good idea. After all, a well-informed poultry keeper is likely to have a healthier flock. So, here are some of the most frequently asked questions about feeding barley to chickens.
Can Chicks Eat Barley Too?
Absolutely! But remember, chicks need their barley to be ground into a fine consistency they can digest easily. Whole grains can be tough on their little digestive systems, so always ensure the barley is finely milled before adding it to their chick starter feed.
Should I Feed My Chickens Cooked or Raw Barley?
You have the option to feed your chickens either cooked or raw barley. Cooking can help to break down some of the barley's tough outer husk, making it easier for your chickens to digest. However, raw barley is also suitable, especially when crushed, as it retains all its nutritional value.
How Much Barley Can I Give My Chickens Daily?
It's recommended to have barley make up about 10% to 15% of your chickens' diet, depending on their nutritional intake. However, be sure to observe your chickens when introducing barley. You might need to adjust the amount if you see any changes in their behavior, health, or egg production.
Are there any Signs of Barley Overfeeding to Look Out For?
There are several signs that your chickens might be eating too much barley. These could include a decrease in appetite, a change in their normal behavior, disruptions in egg production, or digestive issues. If you observe any of these signs, it might be a good idea to cut back on the barley you feed them.
What Other Grains Can I Combine with Barley in Chicken Feed?
Barley can be mixed with other grains to ensure your chickens have a balanced diet. These can include corn, wheat, oats, and even rice. It's all about creating a diverse and nutritionally balanced diet to keep your chickens healthy and productive. Always remember diversity is key when it comes to chicken feed.
Exploring Other Plant-Based Foods for Chickens Beyond Barley
While barley certainly has its place in a chicken's diet, it's not the only plant-based food your feathered friends can enjoy. Diversity in the diet is key to ensuring your chickens receive a broad spectrum of nutrients. Let's look at five other plants and how they can contribute to a chicken's diet.
Grass
Grass is a wonderful food for chickens. They love to peck and scratch at it, providing a good source of fiber and necessary nutrients. Plus, it's a natural behavior enhancer, giving them something to do during the day!
Read More: Do Chickens Eat Grass? Uncovering The Truth About Their Diet
Clover
Clover is a great source of protein, and it's completely safe for chickens to eat. It can be an excellent supplement to their diet. Chickens generally love clover, and it can be used as a fresh treat during grazing.
Read More: Can Chickens Eat Clover? 6 Fantastic Benefits
Alfalfa
Alfalfa is another chicken favorite. It's rich in protein and calcium, which is fantastic for egg-laying hens. You can feed it to your chickens as sprouts or hay or even let them graze on an alfalfa field if you have one.
Read More: Can Chickens Eat Alfalfa? 6 Important Benefits
Hay
Hay isn't just for horses! Chickens can also benefit from having hay in their diet. It provides roughage and keeps them busy. While it's not as nutritious as other options, it is a good boredom buster and can be used as a treat rather than a staple.
Read More: Can Chickens Eat Hay? The Surprising Truth Revealed
Wheat
Wheat is another grain that chickens can eat. It provides carbohydrates for energy and is generally well-liked by chickens. However, like with barley, ensure it's properly processed (cracked or crushed) for easier digestion. Wheat should be part of a balanced diet, not the sole component.
Read More: Can Chickens Eat Wheat? Expert Guide To Feeding Your Flock
Can chickens eat barley – final thoughts
So there we have it, folks – the lowdown on the barley-chicken connection. We've covered everything from the basics of a chicken's diet, the importance of grains, and finally, the star of our show, barley. Just remember, while chickens can eat barley, moderation is key. You need to watch for overfeeding, ensure the barley is in a form they can digest, and balance it with other grains and feed components.
Feeding chickens might not be an exact science, but you can make better, informed decisions armed with the right information. So next time you hold a handful of barley and ask, "Can chickens eat this?" you'll know the answer is a resounding yes! Remember, a well-fed chicken is a happy chicken, and happy chickens lay the best eggs.
Related Articles: