As a backyard chicken owner myself, the question, can chickens eat mushrooms? has crossed my mind more than once. With their voracious appetites and curious beaks, chickens seem willing to sample just about anything they come across in their surroundings, mushrooms included. But just because they can eat something doesn't necessarily mean they should.
So, let's cut to the chase. Can chickens eat mushrooms? Yes, they absolutely can. But as with any treats outside their regular feed, there are some crucial caveats to consider. Not all mushrooms are created equal, and knowing the difference can mean the difference between a healthy, happy flock and one that could potentially be in danger.
In the following article, we'll delve into the specifics of a chicken's diet, the role of fruits and vegetables, and focus on mushrooms' potential benefits and risks for chickens. From the varieties they can safely consume to the potential signs of mushroom poisoning, we aim to equip you with all the knowledge you need to make informed decisions about including mushrooms in your chickens' diet.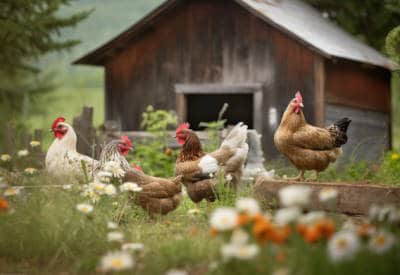 Understanding a Chicken's Diet
It's no secret that chickens are rather eclectic eaters. Like a toddler let loose in a pantry, they will sample everything they can get their beaks on. But let's dive deeper into understanding their diet to better comprehend what should and should not be on their menu.
Basics of a Chicken's Diet
A chicken's diet primarily comprises commercial poultry feed that provides a balanced mix of grains, proteins, vitamins, and minerals. Chickens also love to supplement their diet with bugs, worms, and small critters they find while foraging.
Importance of Diet Variety
While chickens can subsist on commercial feed alone, adding a variety of food items can enhance their diet, helping them get extra nutrients and enrich their lives. Diet variety can also affect egg quality, with some additions increasing yolk color and taste.
Common Foods in a Chicken's Diet
Common additions to a chicken's diet include grains like corn and wheat, greens like lettuce and spinach, and protein sources like mealworms. Some people even give their chickens fruits and vegetables from their kitchen scraps.
Do You Want Large Beautiful Eggs?
Then you need this organic and Non-GMO layer feed. My hens have increased egg production, and the eggs are huge, with rich, yellow yolks! Check out this feed on Amazon now.
The Role of Fruits and Vegetables in a Chicken's Diet
As chicken owners, it's crucial to understand the role fruits and vegetables play in a chicken's diet. Offering these treats can benefit chickens, but it's not as simple as tossing any produce into their coop.
Types of Fruits and Vegetables Chickens Can Eat
Chickens can eat various fruits and vegetables, including apples, berries, carrots, and cucumbers. However, not all produce is safe for chickens, so verifying each item before feeding it to your flock is important.
Health Benefits of Fruits and Vegetables for Chickens
Fruits and vegetables provide chickens with essential vitamins and nutrients that commercial feeds may lack. They can enhance immune health, improve digestion, and provide antioxidants.
How Often to Feed Fruits and Vegetables to Chickens€
While fruits and vegetables can be beneficial, they should only make up a small portion of a chicken's diet – about 10%. Overfeeding these items can lead to nutritional imbalances.
Mushrooms and Their Nutritional Content
Now, let's talk about mushrooms, those little fungi that can cause controversy regarding chickens' diets.
What are Mushrooms?
Mushrooms are a type of fungi that grow in damp environments. They come in various shapes, sizes, and colors, some edible and others toxic.
Types of Edible Mushrooms and Their Nutrient Profiles
Edible mushrooms, such as portobellos, shiitakes, and button mushrooms, are rich in vitamins like B and D, minerals, and antioxidants. They can also provide a good source of protein.
Health Benefits of Mushrooms in General
Mushrooms can boost immune health, support heart health, and aid digestion. They have anti-inflammatory properties and can even support brain health.
Can Chickens Eat Mushrooms?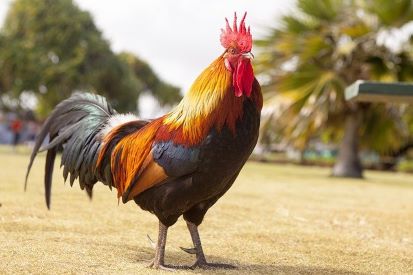 So, the million-dollar question is – can chickens eat mushrooms? The answer is yes but with some caveats.
Chickens' Natural Tendency Toward Mushrooms
With their keen eyes and curious nature, chickens are likely to peck at mushrooms they encounter while foraging. If these mushrooms are safe to eat, they can be a good source of nutrients.
Are Mushrooms Safe for Chickens?
Generally, any mushroom safe for human consumption is safe for chickens. However, chickens should never be allowed to eat wild mushrooms, as it can be difficult to distinguish between edible and toxic varieties.
Precautions When Feeding Chickens Mushrooms
Always ensure that mushrooms fed to chickens are fresh and free of mold. Spoiled mushrooms can lead to health problems. Store-bought mushrooms should be washed to remove any pesticides.
The Potential Risks and Dangers of Mushrooms for Chickens
While mushrooms can be a nutritious addition to a chicken's diet, they are not without risks.
The Issue of Toxic Mushrooms
The biggest risk with mushrooms is toxicity. Many wild mushrooms are poisonous, and chickens cannot distinguish safe from toxic mushrooms.
Risks of Store-Bought Mushrooms Treated with Pesticides
Store-bought mushrooms can be treated with chemicals that can harm chickens. It's best to choose organic or wash them thoroughly before feeding.
Symptoms of Mushroom Poisoning in Chickens
Signs of mushroom poisoning in chickens include lethargy, loss of appetite, vomiting, and changes in behavior. Contact a veterinarian immediately if you suspect your chickens have eaten toxic mushrooms.
Best Practices for Feeding Mushrooms to Chickens
Follow these best practices if you're considering adding mushrooms to your chickens' diet.
Choosing the Right Mushrooms
Stick to varieties that you would eat. Avoid wild mushrooms unless you're an expert in mushroom identification.
Preparation Techniques for Mushrooms
Mushrooms can be served raw or cooked. Cooking them can make them easier to digest and enhance their flavor.
How Often and How Much Mushroom to Feed Your Chickens
Mushrooms should be an occasional treat, making up no more than 10% of your chickens' diet. Too many can lead to nutrient imbalances. And remember, the most crucial aspect of a chicken's diet is a balanced commercial feed.
What Else May Be Dangerous for Chickens to Eat?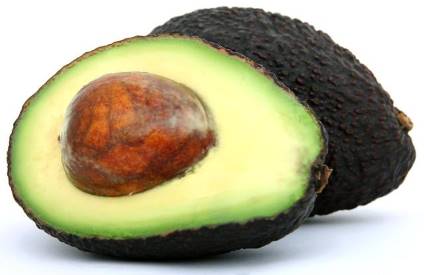 While mushrooms may have been our main focus, it's crucial to be aware of other potentially harmful foods for your chickens. Let's shed some light on five items: avocado, onions, garlic, jalapenos, and chives.
Avocado
Avocado can be a tricky one. While the fruit's flesh is safe for chickens, the pit, skin, and leaves contain a toxin called persin that can harm birds, including chickens. Therefore, avoiding giving avocado parts other than the flesh to your chickens is best to prevent any potential health risks.
Read More: Can Chickens Eat Avocado? The Truth About This Superfood
Onions
In large quantities, onions can be harmful to chickens. They contain a compound called thiosulphate, which can lead to a condition called Heinz body anemia in birds. Limiting onions in your chickens' diet is best to keep them healthy.
Read More: Can Chickens Eat Onions? Unpeeling The Surprising Truth
Garlic
Garlic, unlike onions, can be beneficial for your chickens when given in moderation. Garlic has many health benefits, including antimicrobial properties. However, too much can taint the taste of eggs, so use it sparingly.
Read More: Can Chickens Eat Garlic? Unpeeling The Truth
Jalapenos
Surprisingly, chickens can handle spicy foods like jalapenos without any issues. Capsaicin, which gives jalapenos their heat, doesn't affect birds like mammals. However, these should be given as an occasional treat and not a staple in their diet.
Read More: Can Chickens Eat Jalapenos? A Spicy Exploration
Chives
Chives, like onions, contain thiosulphate and can be harmful to chickens. While small amounts might not cause an issue, avoiding these in your chicken's diet is safer to prevent potential health issues.
Read More: Can Chickens Eat Chives? 5 Excellent Benefits
Frequently Asked Questions about Chickens and Mushrooms
Understanding what to feed your chickens can be a bit of a minefield, especially when it comes to less common foods like mushrooms. Let's take a moment to address some frequently asked questions that may further clarify the do's and don'ts of chickens and mushrooms.
What kind of mushrooms can I feed my chickens?
Any variety that's safe for human consumption should be okay for chickens. These include button, portobello, shiitake, and oyster mushrooms. However, avoid feeding them wild mushrooms, as it can be difficult to distinguish between toxic and non-toxic varieties.
Can chickens eat cooked mushrooms?
Yes, chickens can eat cooked mushrooms. Cooking can make mushrooms more digestible and may enhance their flavor, making them more appealing to your flock.
Can mushrooms be a regular part of my chickens' diet?
While chickens can eat mushrooms, they should be offered as an occasional treat rather than a staple. Overconsumption can lead to nutritional imbalances. The primary component of a chicken's diet should be balanced commercial poultry feed.
What should I do if my chickens eat a potentially toxic mushroom?
If you suspect that your chickens have consumed a toxic mushroom, it's essential to seek veterinary advice immediately. Signs of mushroom poisoning can include lethargy, loss of appetite, vomiting, and changes in behavior.
Can I feed my chickens mushrooms that have gone bad?
No, you should never feed chickens spoiled food, including mushrooms. Spoiled food can harbor harmful bacteria that can lead to serious health issues. Always ensure that the mushrooms are fresh and free from mold.
Do I need to wash store-bought mushrooms before feeding them to chickens?
It's good practice to wash store-bought mushrooms before feeding them to your chickens. This helps remove any potential pesticide residues. If possible, choosing organic mushrooms is a better option for your flock.
Can chickens eat mushrooms – final thoughts
As it turns out, the world of chicken treats just got slightly bigger. Yes, our feathered friends can enjoy the occasional mushroom, adding a dash of fungi flair to their diet. But, as always, moderation is key, and safety should be your top priority. Make sure any mushrooms you offer are as safe for your chickens as they would be for you.
In the end, feeding chickens is a bit like being a chef. You have various ingredients at your disposal, from staple grains to extra garnishes like fruits, veggies, and even mushrooms. Remember the golden rule: your main dish should always be a balanced poultry feed, and everything else adds a bit of spice to the menu.
Related Articles: